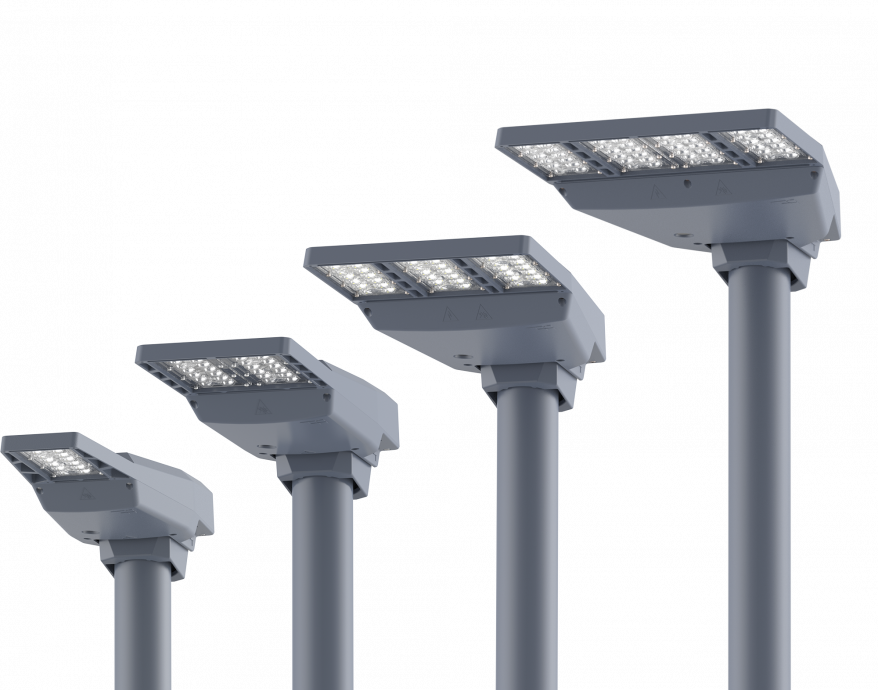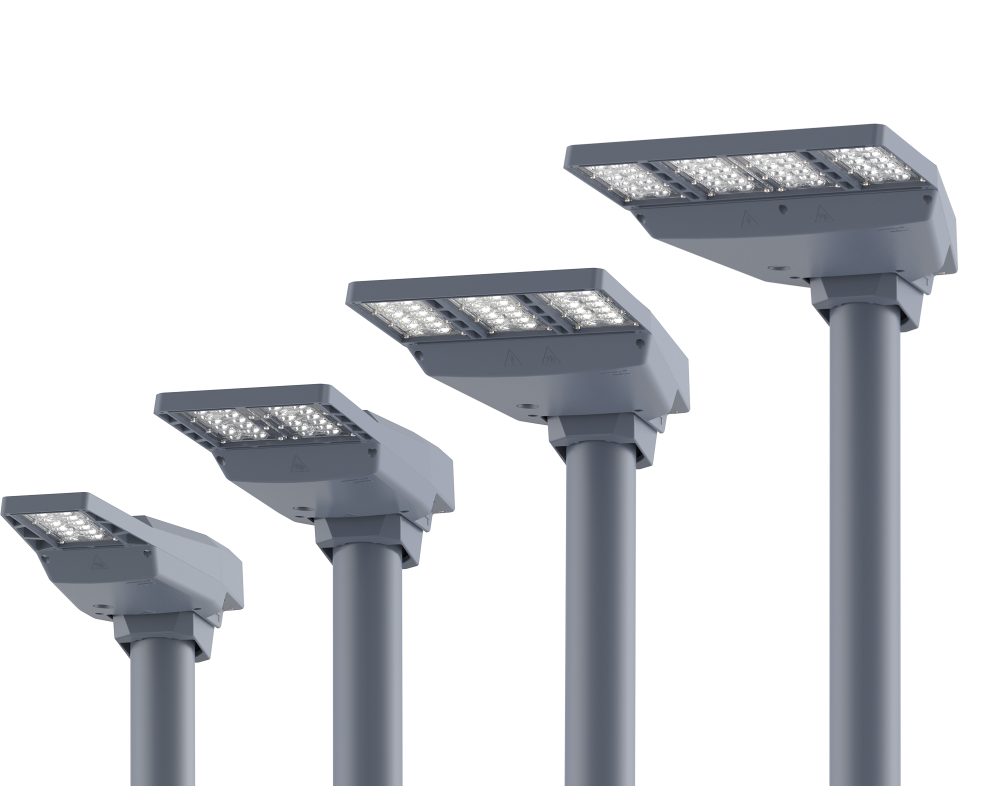 Downloads
Format: Adobe Acrobat PDF file, (4.1 MB)
Format: Adobe Acrobat PDF file, (128 KB)
Format: Adobe Acrobat PDF file, (73 KB)
Our most competitive range of street lighting yet
Kirium Eco is our most competitive range of LED luminaires to date. 
Low total cost of ownership
Adaptable mounting block allows on-site switching from side entry to post top, with cable fitted
Quick and easy tilt adjustment
Dedicated optical solutions for roads, footpaths and crossings
Smart-City ready
Request a quote
4-6
12
3.8-4.3
0.039 (CxS = 0.028)
6-8
24
4.1-4.6
0.039 (CxS = 0.025)
8-10
36
6
0.041 (CxS = 0.032)
10-12
48
7.3
0.041 (CxS = 0.026)
Contact us to find out more
Controls & Connectivity
From simple photocells and factory-set dimming or switching regimes to full CMS connectivity, Kirium Eco can be enhanced through intelligent and connected sensors and control systems. Connect NEMA or Zhaga Book 18 compliant sensors or wireless communication devices for on/off switching, light control and dimming.
 
 

 

 
 
 

Wide Road

(Type 1 | Type 2)

Medium Road

(Type 1 | Type 2)

 Narrow Road

(Type 1 | Type 2)

Traffic Routes

 

Area

(Symmetric | Asymmetric)

Pedestrian Crossing

 
RAL 7035

Light Grey

RAL 7046

Mid Grey

RAL 9005

Black
To personalise your scheme, other RAL colours available on request
Detailed Specification
Product specification
High street & road lighting
Car parks
Area lighting
Buildings
Paths & walkways
Lighting
Narrow Road (Type 1 / Type 2)
Medium Road (Type 1 / Type 2)
Wide Road (Type 1 / Type 2)
Traffic Routes
Area (Symmetric / Asymmetric)
Zebra Crossing (Left / Right)
Colour Temperature (CCT):
2200K
2700K
3000K
4000K
Max efficacy (luminaire lumens):
up to 185lm/W
Power and control
250mA - 1050mA (in 50mA increments)
Miniature photocell
NEMA photocell
Part night switching
Pre-programmed dimming
NEMA photocell
Integral CMS
3/5/7 pin NEMA socket
4 pin Zhaga Book 18 socket
Fully programmable (with constant light output)
Mechanical and installation
Post top: -5° to +15° (5° increments)
Side entry: -15° to +10° (5° increments)
Body (standard): Full LM6 die-cast aluminium
Body (hybrid): LM6 die-cast aluminium upper and UV-stabilised polypropylene polymer lower
Lenses: PMMA (polycarbonate on request)
Seals: Silicone
RAL 7046 Mid Grey
RAL 7035 Light Grey
RAL 9005 Black
Other RAL colours on request
-20°C to +25°C (please contact us for lifetime information at higher ambient temperatures)
Post Top: Ø60-76mm
Side Entry: Ø34-60mm
Downloads and dimensions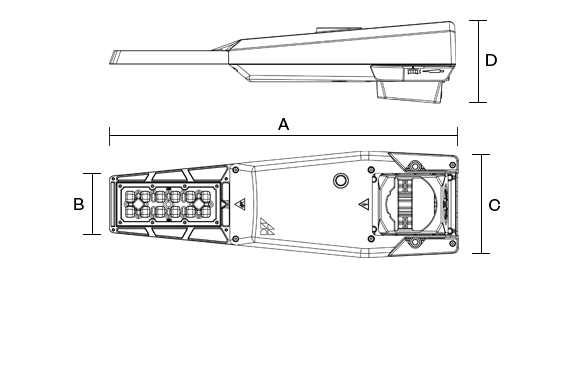 Weight (kg):
4.3 (standard) 3.8 (hybrid)
Windage (m2):
0.039 (CxS = 0.028)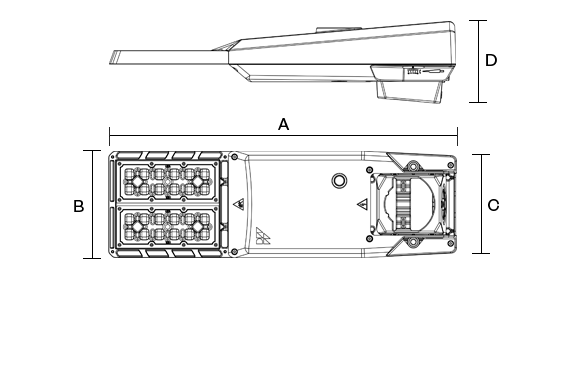 Weight (kg):
4.6 (standard) 4.1 (hybrid)
Windage (m2):
0.039 (CxS = 0.025)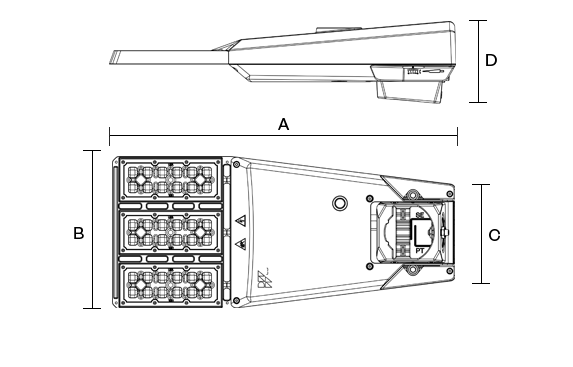 Weight (kg):
6
Windage (m2):
0.041 (CxS = 0.032)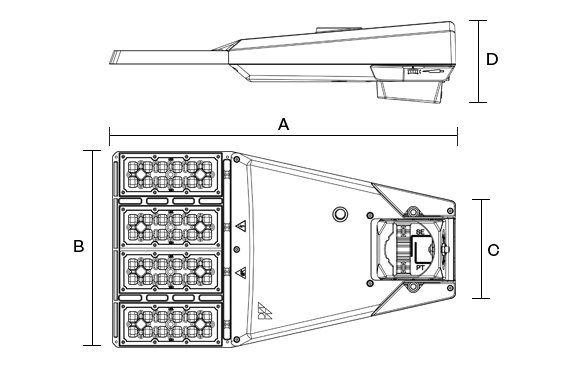 Weight (kg):
7.3
Windage (m2):
0.014 (CxS = 0.026)